In art we have the option of refiguring life.
My goal is to make pieces that are amusing and reassuring, playful and generative.
I am happy when I can help others imagine along these lines. But sometimes when grim events demand, I pose a question with my art.
---
All the works are ceramic, finished with oxide washes, slips, glazes and/or cold finishes, except where noted. Each piece is one of a kind.
The World's in the Balance
8" wide x 9" high x 8.5" deep
To buy this sculpture, contact lisa.anne.lincoln@gmail.com
Other views: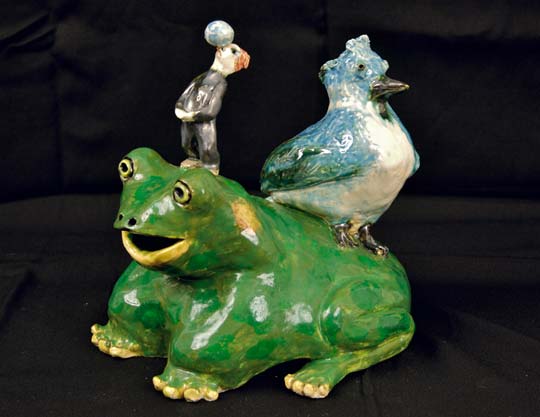 Here is a video about the second year of a clay workshop I led:
Cypress Hills Legacy Arts Hand Built Clay Sculpture
Gowanus Open Studio 2018, October 20 & 21, Noon and 6 p.m.
Come see me and my menagerie of low-maintenance animals and more... at Janice Everett's Studio, around the corner from Gowanus Ample Hills!
For more about great artists and events, see Arts Gowanus.